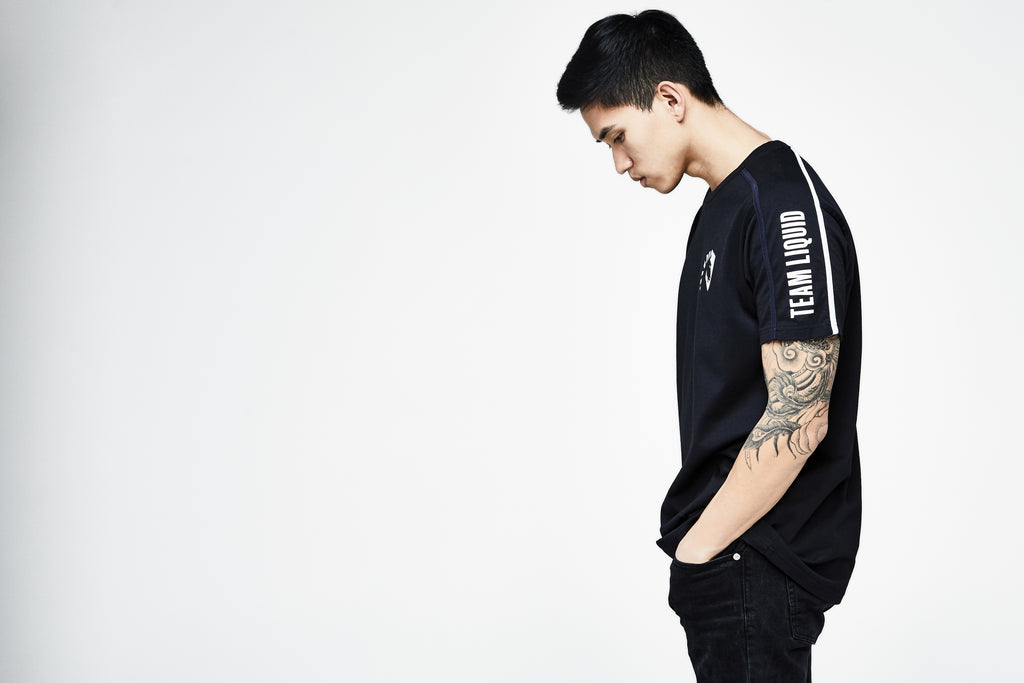 2020 has been a year of change for Team Liquid Apparel. We launched our new store along with two marque drops last month in Derp 4120 and Black Widow. Now, we introduce Team Liquid Heritage. Heritage is a celebration of Team Liquid past, present, and future. With these core items, the Team Liquid standard of excellence in competition meets a standard of quality in garment design, fabrics, and creative direction.
The process began with the details.
We poured over every trim and tag to ensure a standard and consistent presence of the brand across each piece in the collection. For the neck taping, this gave us an opportunity to show off our new 2020 wordmark, a stronger more proud iteration of the Team Liquid typeface of old. 
Custom engraved aglets brought that extra pop to the hooded items without making the brand too loud. We knew there was a lot of placement in the collection with "Team Liquid"s and "Horse Heads" so we took a soft touch with the branded flourishes.
The pullover hoodie is a staple piece, the ultimate comfort item, and our first pick for a collection tentpole. The fabric itself was the biggest decision of this piece and many others in the collection. At 460GSM, the Liquid Color Blocking Hoodie is our heaviest and sturdiest item to date. 
Popularized by many streetwear selects, this weighty terry cotton results in a structured fit that will hold for years to come. Beat it up, take it out, laze around, and wear it down into your favorite hoodie. 
The Crop Hoodie is a companion piece to the Heritage Pullover that brings its own character. The same ultra heavy terry is used here, keeping cohesion with the pullover's structure, while black paneling adds to the color story of the collection. 
For the silhouette, we fine-tuned a comfortable fit that is boxy yet flattering with a distressed raw hem. 
The Liquid Taping Tee presented the challenge of balancing quality with simplicity. For a tee, this starts with fabric selection. We went with midweight ultra-soft cotton to hold form without compromising breathability. For the design elements, we turned to athletics as an esports team for inspiration. 
The resulting contrast taping created the perfect space to add our new wordmark for stronger brand presence and consistency with other pieces in the collection. 
To round out the collection we looked to comfort, convenience, and an old school piece that's been in high demand. The zip up hoodie was a Team Liquid classic in the early days but we had to bring the quality bar much higher. 
Where the terry cotton of the pullover and crop bring structure, the soft fleece of the zip up is all about comfort. The details continue all the same, with full branded trims and a high-quality zipper as non-negotiables before we called the piece finished and ready.