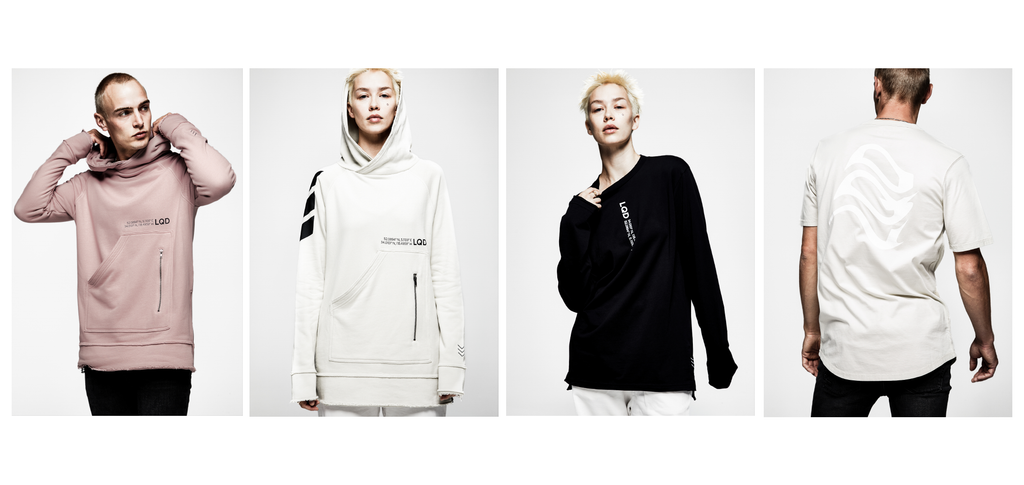 /// LQD_V3 DROPS 7.31 - 12:00PM PDT ///
EXPANDING_LQD
For the first year, LQD was more of an expression of product than brand. We started with the LQD_V1_Black Hoodie inspired by streetwear and the fringe tastes of the apparel team. It was a hit, instantly demanding more of ours and the public's attention. 
In our minds, LQD was always larger than just a hoodie. With each version, we conceptualized bottoms, accessories, bags, and so much more. V3 is the first step to these greater horizons but also a symbol of our gentle separation of the brands. Though LQD is born from Team Liquid and created under the same roof, we're moving out from the comforts of esports and into a broader audience with a look and feel entirely separate from its TL roots. Don't worry, LQD is still for
you
. 

LQD_V3_MAUVE HOODIE
Of course, the hoodie is still the staple. With Mauve we wanted to incorporate a color pop that we've considered from the early iterations of LQD. Inspired by the muted desert landscapes of Tatooine, Mauve brings the color but remains flat and subtle in that LQD way. For construction, we went with an asymmetrical front zip pocket complimented by a left-side only triple chevron for an off-kilter look. 
This loose almost slouched vibe is bread and butter for the collection and something you'll find in every piece. Our dry-touch terry cotton plays suit with a perfect blend of drape and structure. Size up for the real post-apocalyptic look or keep it standard for a slimming silhouette. 

LQD_V3_BONE WHITE HOODIE
The return of Bone White was an easy choice after the success of V2's similar colorway. With a white that's just off and a touch of yellow to give it that weathered look, this piece brings versatility of style. Match it to your favorite pair of black jeans and you're set. 
With the same build as Mauve, this V3 body has been in work since 2019. We focused on contrast first: LQD flows, it's fabric-heavy, it drapes, yet we wanted to incorporate these industrial pops with dark metal zippers on both sides and the asymmetrical pouch along with heavy black design hits. The result is a look that's soft and minimal in the broader construction, but chaotic and loud in the details.
LQD_V3_BLACK LS TEE
A minimal beat in the collection, the V3 black long sleeve has three external design elements in total: a center chest screenprint and two chevron embroidery stitch hits on either hip. From there, the story unfolds in garment alone. Split raw edge hems around the neck and sleeves translated the deconstructed feel of LQD to a softer format. 
The pattern itself is slimming and streamlined with a bottom split and dipped back for a draped frame. Hand-feel was the primary focus in fabric selection, landing us on smooth cooling mercerized cotton that's soft to the touch but holds its structure. 
LQD_V3_BONE WHITE SS TEE
This short-sleeve tee is another translation of deconstruction, one of LQD's primary themes. A common practice when developing LQD garments is to think of the clean and perfect version then take steps back from there. What if it's backward, upside down, in this case: inside out. 
These quirks and 'mistakes' become the shining points of LQD garments. From that base, we added designs, again focusing on clashing viewpoints. The waved LQD logo has an organic feel to it, mimicking the spine of a swimming fish and building tension with the sharp synthetic font of the front printed design.
The LQD_V3 collection is the next step in a work in progress. The versioning of LQD represents a constant evolution and the pace of our creative development. We can't wait for you to get your hands on V3 and to show you what's next.